Holiday Gifts (from your cats) is a series of gifs created for Christmas.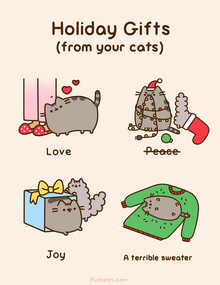 Love- Shows Pusheen rubbing up against her owner's legs. The owner is wearing pink pants and red slippers with white dots. Hearts are emitting from Pusheen.
Peace- The word "peace" is crossed out. Shows Pusheen wearing a Santa hat and gnawing on tree lights. Stormy is seen crawling into a stocking.
Joy- Shows Pusheen laying in a light blue box with a yellow bow on top. Stormy is on her hind legs, drumming on the box.
A Terrible Sweater- Shows Pusheen rolling on her back on top of a green sweater with red fringe. Some of her shedding fur is seen on the sweater.